Cultivation Course
Publication Date :
Last updated:2023-03-21
View count:2640
Ⅰ. Life education
In order to develop the Juvenile Reform School' characteristic of people-oriented, and to deep input the ideological concepts of life education, our school conduct a series of life education courses as following to teach the students to cherish life, respect life, respect others and them own.
  1.The school invites professional people to give life education course, thus to train our teachers to be seeded teachers in life education.
  2. Improve our teachers' counseling and controlling ability through active and vivid teaching demonstrations.
  3. Teachers and students see the appropriate film together to add diversity of life education course.


Ⅱ.Family education
Many juvenile's negative language, habits, and opinion which caused conflict between their values and interpersonal relationship was formed in their native families. Therefore, in order to teach them to know of their native families and avoid non-recurrence of error, the school will invite professional people to conduct family education courses at school. The curriculum project is as following:
 1.Teaching aims
  a.Encourage students to reknow the concept of family, accept their native family, thus to rebuilt a happy family.
  b.Get to know each family member's periodic role-playing and responsibility in the family life circle.
  c.Get to know the influence and importance of healthy families and afunction families. Raise their persistence of overcoming the difficulty.
  d.Realize the values of individual and family, know their own limit and the importance of family communication.
  e.Strengthen personal perception, get to know their advantages, show their potentials, and raise individual resiliency.
 2.Learning Target
Encourage students to internalize the family education they received and implement in their daily life.
Ⅲ. Enhance family support to students
 1.In order to enrich the relationship between parents and children, class advisors will provide parents some necessary parental control knowledge through talks when they have reception, assist them to understand 2 aspects: a. parental role and responsibility, b. juvenile psychology, educate and supervise juveniles well. For those parents who haven't visited to school for a long time, class advisors will make follow up telephone interview to them, if necessary, the school will send teachers to make home visiting, thus to enhance the family support to students for changing for the better refers.
 2.During winter and summer holiday, every class advisor conducts filial education through group discussion and sharing of films, assist students to know: a. children's' role-playing and responsibility, b. understand family values and relationship with parents.
 3.Bridge the gap between the students and parents, strengthen the family bond, and arouse the juveniles' and parents' willing to make joint force to help each other. Assign family part and greeting call to parents on spring festival, Mother's Day, and Mid-Autumn Day every year.
 4.Invite the Red Cross and Probation Association to make fixed adoption counseling to those students lacking of family support, thus to reach the effect of positive support, accompany counseling.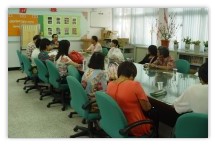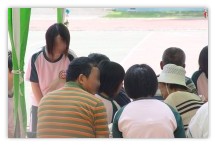 Ⅳ. Self-exploration and self-respect education
This course is conducted in group to assist the students to grow up in the meditation, Self develop, tap potentials, self transcend and get a sound mind and body. Arrange self-exploration and self-respect courses to students in the winter and summer holiday.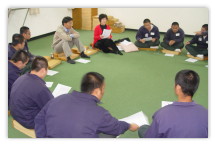 Ⅴ. Career exploration
Due to the tight job market and rapidly changing situation, the juveniles have less awareness of their own career ability and the job market trend that resulting their unemployment problem and uncertain employment. In order to increase their awareness of the trend of the market, further cultivate their skills and build correct working attitude, the school is planning to hold Employment Promotion lecture, visiting to workplace and working group, hoping to increase students' self confidence and employment ability through the methods of lecture, group share and visiting on the spot.